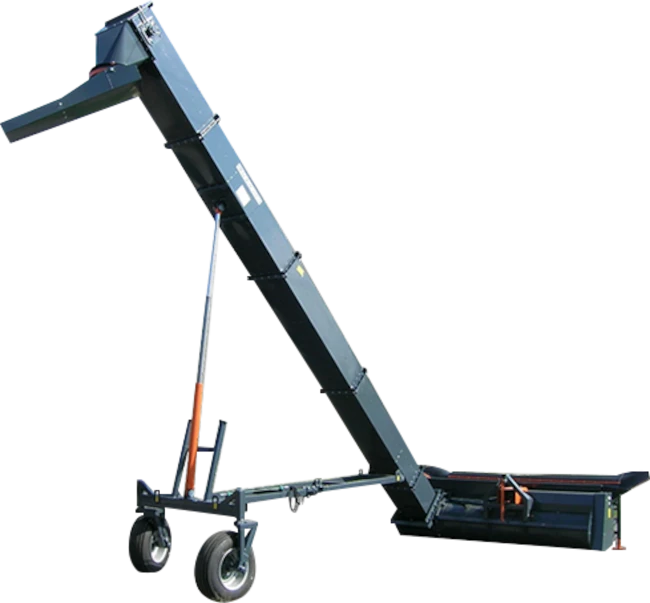 OptiRak - 150/M Grain pick-up and loader machine
The OptiRak-150/M is an ideal machine for high-capacity grain loading. It can be connected to a tractor with a standard three-point hitch and is powered by a torque-limited drive shaft. Its power requirement is 37 kW.

The machine can be easily moved within the yard with a tractor, allowing for quick and easy switching between loading areas. The appropriate direction is controlled by an adjustable-length control lever attached to the side of the tractor. The machine can be operated with or without a loading ramp. The rampless version is suitable for picking up grain stored on flat terrain, loading it onto a transport vehicle, and transferring it to a ventilated storage area. The version equipped with a loading ramp is suitable for loading grain directly from a transport vehicle into a railcar, silo, or multi-story storage facility.

OptiTrans - ADAPTER TRANSPORT TRAILER
OptiTrans is suitable for road transportation of all types of harvesting adapters manufactured by Optigép Kft.

The holders can be adjusted in a wide range of sizes. Proper adjustment allows for the transportation of various types of combine harvester adapters.

The carrying surface is adjustable in angle (0-20°), allowing for the optimal transport position to be set for any type of adapter. The trailer can be easily detached from the combine or tractor hitch.

The adapter on the trailer is easily accessible from the combine, and can be removed from the incline conveyor without obstacles.

The transporter trailer can be made with a carrying surface of 7, 9, and 12 meters in length.